TK-1® – Nanotechnology in the protection against mosquitoes and moths
What is TK-1®
TK-1® is a sophisticated nanotechnology device for repelling mosquitoes and moths which is effective at a distance of up to1.5 m and is used for personal protection. Its modern design makes it suitable to be carried around the neck. It has both audio and visual indication of the battery status. The blue light indicates that the battery is in order and shows the battery status about every ten minutes.
How TK-1® works
TK-1® works on the principle of QPSK modulation in the frequency range that humans cannot hear. Due to this modulation, it repels mosquitoes, and also has a special frequency built-in that repels moths. The device operates at a distance of up to 1.5 m. If you want to protect a larger area, either use several devices or consider some other way of protection.
Insects Repelled by TK-1®:
Common mosquito
Anopheles (malaria mosquito)
Clothes moth
TK-1® DOES NOT AFFECT OTHER TYPES OF INSECTS OR ANIMALS.  
Characteristics of TK-1®:
Based on nanotechnology
Operates at a distance of up to 1.5 m (maximum reach cannot be increased)
Modern design, handy and easy to carry
Durable casing (shockproof)
Indication of the battery status
Environmentally friendly
No indications of interference with other electronic devices
Target Groups
The original purpose of TK-1® was to provide protection for small children, given the fact that they cannot protect themselves against mosquitoes, and at the same time, the use of aggressive chemicals is not an option in their case. However, this invention has been best accepted by fishermen and hunters who use it while waiting on the shooting stand, as in such cases chemical substances cannot be used for protection against insects because game can smell it.
Target groups for the use of TK-1®:
Fishermen
Hunters
Small children
Military use
Patent
TK-1® is patented in Croatia and in Germany. German patent rights encompass some other European countries as well, such as Spain, the UK and France.
Awards and Honors
We are very proud to be able to say that in 2004 TK-1® won the Prime Minister's Award for ICT innovations, which is a great recognition of our work in the field of the development of electronic devices.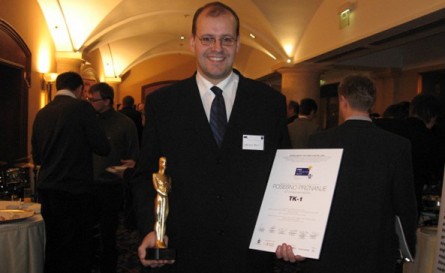 Testing
The testing of TK-1® has been conducted at the Faculty of Agriculture and at the Faculty of Electrical Engineering and Computing in Zagreb.
• Faculty of Agriculture in Zagreb – testing on several types of insects and animals
• Faculty of Electrical Engineering and Computing in Zagreb – additional testing of electrical validity (whether the frequencies are harmful to humans, control frequencies, interferences with other devices)
After the testing conducted at the Faculty of Agriculture, the device's operating capacity was estimated to be 1-1.2 m. However, we managed to increase it to the maximum of 1.5 m, which is enough to protect exposed body parts and fully repel mosquitoes, while the moths are repelled in the radius of 95 cm.
As far as the size of the device is concerned, we opted for a larger one even though it could have been smaller, in order to make it firm and shockproof.
PDF Manual
Click on the icon and download the PDF manual for TK-1®